The launching conference of Interreg VI-A Romania-Bulgaria Programme
March 2, 2023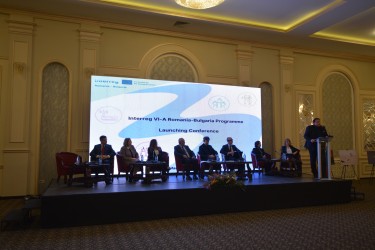 Yesterday, the 1st of March 2023, the management structures of Interreg VI-A Romania-Bulgaria Programme organized in Constanța, the Launching conference of the Programme.
Following the approval of the Interreg VI-A Romania-Bulgaria Programme by the European Commission on the 30th of November 2022, this event represents an important milestone in the implementation process of the Programme.
The conference benefited of the physical presence of over 200 participants, interested in finding out more about the funding opportunities offered by the Interreg VI-A Romania-Bulgaria Programme. As well, the event was live streamed on FB, being accessible for all interested parties that could not attend in person.
The management structures presented to the audience the priorities objectives financed by the Programme, the budgetary allocation for each of priority as well as the applicable rules for accessing these funds, set up at Programme level.
The event was organized in an interactive format, consisting in presentations, panel and open discussions as well as Q&A sessions, that allowed participants to receive valuable information on the area priorities and the planned resources, on the proposed new innovative approaches and in the same time to ask questions and receive feedback.
Being organized in a friendly and relaxed atmosphere, the conference represented a good opportunity for the participants to network and to start thinking of new projects to be developed in partnership.
Please find the presentations made during the Conference here.