Important progress in the approval process of the Interreg VI-A Romania-Bulgaria Programme
February 3, 2022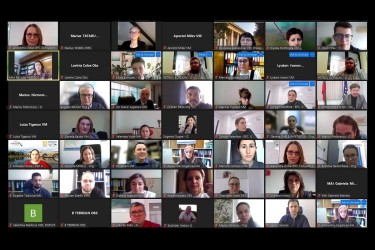 Interreg VI-A Romania-Bulgaria Programme was approved by the Joint Working Group for Programming (JWG) during the third meeting organised today, February 3rd, 2022.
This is an important step in the process approval of the programme by the European Commission. Before submitting the programme to the European Commission for approval within the deadline established by the EU Regulation, the 2nd of April 2022, the programme must be approved by the governments of Romania and Bulgaria, which will take place during February-March 2022.
The discussion and decisions agreed by the JWG members today were focused on the most important sections of the Programme: the strategy and the priorities of the programme, the horizontal principles, the approach of the communication and visibility of the programme, the consultation process, the programme structures, small scale projects and the apportionment of liabilities among participating member states. As well, the calendar for the carrying out the Strategic Environmental Assessment (SEA) was presented to the JWG members.
Another important topic on today's agenda was the presentation of the projects of strategic importance for Priority 1 – A well connected region (SO 3.2) and Priority 2 – A greener region (SO 2.4- risks related operations), projects which will be included in the annex to the programme. The identification process of the projects of strategic importance was carried out during 2020 and 2021, as part of the programming process, using open calls and discussions with the relevant stakeholders.
The final version of the programme approved by the JWG can be consulted here and the presentations made may be consulted here.