You are invited to celebrate the identity and unity in Europe
September 9, 2021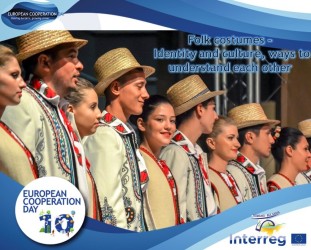 "Folk costumes – Identity and culture, ways to understand each other" - an online initiative launched by Interreg V-A Romania – Bulgaria Programme is our way to celebrate 10 years of European Cooperation on the 21st of September and we want YOU to be part of it!
How exactly?
The beauty of culture is diversity and every country has its own history and traditions. Folk Costumes are an important part of a country's culture and we thought how interesting would be to see and share on our Facebook page people from everywhere, proudly wearing them. Share with us and our friends from all countries a little part of your cultural heritage by sending a picture with your folk costume. Remember, we are all united in diversity and this is what brings us together.
The pictures must be at the info@calarasicbc.ro, by 30th of September 2021.
All the received photos will be arranged in a Photo album which will be posted on the Programme website and Facebook page.
The photo you submit...
• must be in .jpg format,
• must have a good enough quality,
• must not contain copyrighted material (except as owned by you, the photographer).
You retain ownership and copyright of your photo. You grant the Interreg V-A Romania – Bulgaria Programme permission to use and display your photo including on the Programme website, galleries and social media. Also, the Interreg V-A Romania – Bulgaria Programme reserves the right to deny or remove your photo at any time. If there are minors in the photograph you submit, you must be the parent or guardian of those minors and have the authority to consent to the use of their image in the photograph. If there are other adults in the photograph, you must obtain each person's express consent to being photographed and to having their image used and shared.